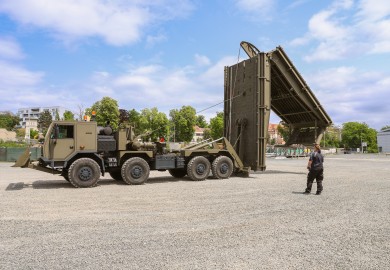 From 24 to 26 May, the IDET Defence and Security Fair was held at the Brno Exhibition Centre. As part of the joint exhibition with the Czechoslovak Group, our company presented several vehicles both in the indoor and outdoor areas.
Traditionally, the fair was complemented by live dynamic demonstrations, which took place in the IDET arena at the exhibition centre. The dynamic demonstrations offered an opportunity to see the driving of TATRA vehicles and simulations of operations of the Police of the Czech Republic, the Fire Brigade, the Army of the Czech Republic or the Prison Service of the Czech Republic.

This year, for the first time, we had the opportunity to present our vehicles live in action to all visitors within the block of dynamic demonstrations of special equipment. One of the vehicles presented was the AM-70 EX bridge vehicle.
In its part of the dynamic demonstrations, the two-man crew presented the laying of a bridge span with partial extension of the support and subsequent loading back onto the vehicle. The (four) phases of the laying and the (three) phases of the span laying were presented and described to the visitors.

The reactions of the observers were a great feedback for our vehicle and our technicians. We look forward to seeing you again in two years' time in the IDET arena!